If you've had the misfortune of being sick or injured to the point where you cannot walk, or you are coming to face the reality of aging, overcoming challenges of mobility for which you weren't prepared can be tough. You're not alone. Even in the most positive and uneventful of circumstances, our bodies will eventually weaken and slow down. Inevitably, we will then no longer be able to move our bodies as easily as we have been able to, nor will we be able to travel as comfortably or often as we have been accustomed to throughout our lives. This is where the mobility scooter comes in, and with it comes the freedom of traveling at speeds and distances that you have been used to all your life.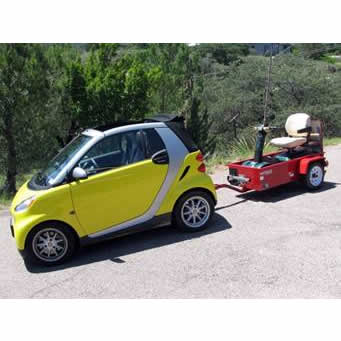 A person traveling with a mobility scooter is an increasingly common sight these days, and in some cities and communities it is as ubiquitous an occurrence as soccer moms on their smart phones. Riders usually don't get second glances because they are all over in places such as supermarkets, shopping malls, flea markets, banks, sidewalks and sometimes you may see one traveling down the side of the road. There is also no stigma attached to a mobility scooter. In many cases, the use of a mobility scooter is considered a status symbol for the more financially capable of the transport-challenged crowd.

If you're reading this, chances are good that you have already made a commitment to buy a mobility scooter and are looking for guidance to find the right machine that best suits your needs and how to properly operate and maintain the scooter. In fact, most of you are already thinking ten steps ahead by figuring out how to get from point A in city 1 to point B in city 2 in your future mobility scooter. The following information is for users with longer distances in mind.

There are a few basic types of mobility scooters. The most basic models are travel scooters that are meant for easy transportation in vehicles. These scooters are easier to disassemble and transport than larger scooters, so they are more likely to end up in different zip codes. Most travel scooters are lightweight and if you're the type of person who travels a lot, this should be your mobility scooter of choice.

A notch up from portable travel scooters are the full-sized scooters, with higher weight capacities and battery power capacities, allowing for longer travel distances. For local and general mobility use, these are preferable because most people don't travel with only their body weight in tow. The ability to strap on a shopping bag to your full-sized mobility scooter is well worth the upgrade.

For high weight capacity needs, heavy duty mobility scooters are available, and are rated to support 300-500 lbs. Heavy duty scooters have higher ground clearances and the ability to travel longer distances. These machines will get you just about anywhere you need to go with nearly anything on board.

For the distant traveler, it will be most convenient to have the lightest variant of mobility scooters with three wheels. These three-wheelers are not only smaller and lighter, but they're also built to disassemble or collapse faster for convenience of transportation in a vehicle.

If you do a lot of driving, or are transported quite often by van, then you may need a lift or carrier to store or tow your scooter with your vehicle. Having a lift will allow you to stay in your seat as your ride is hoisted on board. Of course, if you don't have the luxury of a van or large enough vehicle to accommodate a lift, your choices for your mobility scooter have shrunk significantly because disassembly or collapsibility becomes the primary concern.

Not to worry – we carry industry-leading brands of scooter lifts, and our staff can thoroughly advise you on the most appropriate means of transporting your scooter in your vehicle.

If you travel by plane, you'll be happy to know that airlines do not charge any extra fees for transporting your mobility scooter. Though there are rules and procedures associated with on-flight transport, your carrier treats mobility scooters like they do wheelchairs. If you are traveling by airplane, there are some precautions you should take beforehand to ensure that your mobility scooter is properly handled. Because airline employees will be disassembling and reassembling your scooter for storage and return, it is recommended that you attach a copy of the disassembly and reassembly instructions from your owner's manual to the scooter. Mobility equipment is given first priority when unloading, and your scooter will likely be the first thing to be unloaded and reassembled. Remember to tag your scooter as you would any other luggage with your name, address, and contact info in case it is misplaced. Airlines consider spillable batteries to be hazardous materials and may require that they be stowed with checked luggage rather than carried onboard, but by law, they cannot charge you extra for battery storage. All of our scooter batteries are considered non-spillable and safe for public transportation, because they use either absorbent glass mat cells or gel cells. Currently, the TSA's policy is to subject disabled passengers to the same level of scrutiny as able-bodied passengers, and a mobility scooter may attract extra attention from screeners seeking to ensure that no contraband is stored in the scooter, so allow for extra time getting through security. We also recommend contacting your airline two weeks prior to travel to inform them of any special needs and give them ample opportunity to accommodate you. For additional information on issues pertaining to disabled individuals and air travel, we recommend visiting Flying-With-Disability.org.

Still have questions about this topic? Contact our scooter experts via email, or call us now at 1 (800) 462-5187!